As part of the "citizen journey" organized by the Lycée Carnot (Dijon), the students of class of seconds were invited...

Winning collaboration between Cindy Neuzillet (Gastroenterologist) and Dewi Vernerey (Methodologist)Prédiction de la...

The Cochrane Lung Cancer Group, based in Besancon and with which the UMQVC collaborates, is looking for an author of...

Check out the new site dedicated to the ICE study here.The ICE study, conducted by the University Hospital of Besançon...

As part of Mars Bleu, a month of promoting colorectal cancer screening, prevention, awareness-raising and festive...

PLÉNIÈRE SCIENTIFIQUEGRAND AMPHI Jeudi 22 mars / 11h00 12h45 11h15 CO.30Traitement adjuvant des cancers coliques...

The UMQVC has a Youtube channel! You can already watch video tutorials on the use of CHES. More content to come!

The Informal Carers of Elderly (ICE) working group will organize a meeting on the quality of life of carers accompanying...

On Friday 17 November, the Quality of Life in Cancerology conference, organized by the UMQVC with the support of the...

Tuesday, November 28 2017

The UMQVC is looking to hire a Data Manager! Find all the necessary information here.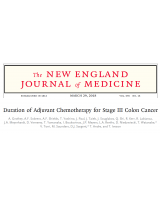 BACKGROUND:Since 2004, a regimen of 6 months of treatment with oxaliplatin plus a fluoropyrimidine has been standard...
Posted by : Dr. Dewi VERNEREY
Journal name : New England Journal of Medicine