Wednesday, January 11 2017

Each year, Acteurs Publics awards "les Victoires des Acteurs Publics" to the best initiatives in public action...

Our team will participate to the Parliamentary Forum on pancreatic cancer, the 22th of November at the Palais du...

UMQVC members will be at the 23rd annual conference of ISOQOL for oral communications and a poster:Friday, 21...

Thursday, October 13 2016

The UMQVC will participate to the "PAIR Pancréas" on quality of life and supportive care topics.The PAIR pancréas...

Thursday, October 13 2016

A multi-disciplinary expert Consortium has been established by the EORTC to develop consensus on international standards...

Wednesday, October 12 2016

The prospective and multicentric ICE cohort (Informal Carers of Elderly, in Franche Comté and Bourgogne) will receive...

Friday, September 09 2016

The University Hospital of Besancon has been nominated to the "victoires des acteurs publics 2016" for the health...

Our article "Time to health-related quality of life score deterioration as a modality of longitudinal analysis for...

The conference press will be the 10th of may, at 3 pm at the PCBio, Univeristy Hospital of Besançon. We will present...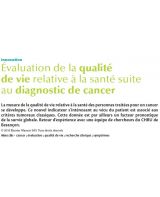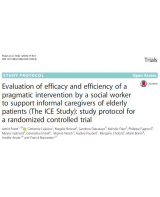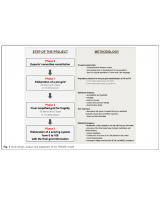 Team members
Amélie ANOTA



Statistician UMQVC



University Hospital of Besançon

aanota@chu-besancon.fr

Researchgate profile

Related Files :
CV_ANOTA.pdf

Franck BONNETAIN



Epidemiologist / Statistician, PhD / Professor, Head of UMQVC



University Hospital of Besançon

franck.bonnetain@univ-fcomte.fr

Researchgate profile

Emilie CHARTON



Statistician



University hospital of Besançon

echarton@chu-besancon.fr

Morgane CHOTARD



Clinical Research Assistant - UMQVC



University Hospital of Besançon

mchotard@chu-besancon.fr

Ikram ES-SAAD



Clinical Research Assistant - Clinical Research Engineer at UMQVC



University Hospital of Besançon

iessaad@chu-besancon.fr

Frederic FITENI



Medical oncologist, MD – Department of Medical Oncology, University Hospital of Besançon PhD student



UMQVC, University Hospital of Besançon

fredericfiteni@gmail.com

Audrey FOUBERT



Data manager - Clinical Research Engineer at UMQVC



University Hospital of Besançon

afoubert@chu-besancon.fr

Joëlle FRITZSCH



Clinical research asociate



University hospital of Besançon

jfritzsch@chu-besancon.fr

Julie HENRIQUES



Statistician



Clinical Research Engineer at UMQVC

jhenriques@chu-besancon.fr

Researchgate profile

Aurelia MEURISSE



Data-manager - UMQVC



University Hospital of Besançon

ahusse@chu-besancon.fr

Guillaume MOUILLET



Medical Doctor, Medical Oncology, IRFC-FC, University Hospital of Besançon - Epidemiologist at UMQVC



University Hospital of Besançon

gmouillet@chu-besancon.fr

Ahmad OUSMEN



PhD student at UMQVC



University Hospital of Besançon

aousmen@chu-besancon.fr

Sophie PAGET-BAILLY



Epidemiologist, PhD - Clinical Research Engineer at UMQVC



University Hospital of Besançon

spaget@chu-besancon.fr

Researchgate profile

Related Files :
CV english S Paget-Bailly.pdf
PhD S Paget-Bailly.pdf

Alhousseiny PAM



Statistician - Clinical Research Engineer at UMQVC



University Hospital of Besançon

apam@chu-besancon.fr

Researchgate profile

Related Files :
Alhousseiny PAM.pdf

Brice PAQUETTE

Astrid POZET



Epidemiologist - UMQVC



University Hospital of Besançon

apozet@chu-besancon.fr

Researchgate profile

Dewi VERNEREY



Epidemiologist / Statistician



Clinical Research Engineer at UMQVC - University Hospital of Besançon

dvernerey@chu-besancon.fr

Researchgate profile

Related Files :
CV_D_Vernerey.pdf
PhD_D_Vernerey.pdf