PLÉNIÈRE SCIENTIFIQUEGRAND AMPHI Jeudi 22 mars / 11h00 12h45 11h15 CO.30Traitement adjuvant des cancers coliques...

The Informal Carers of Elderly (ICE) working group will organize a meeting on the quality of life of carers accompanying...

On Friday 17 November, the Quality of Life in Cancerology conference, organized by the UMQVC with the support of the...

Tuesday, November 28 2017

The UMQVC is looking to hire a Data Manager! Find all the necessary information here.

The "Unité Mixte de Recherche" EFS / Inserm / UFC is organizing its annual seminar on Thursday 23 and Friday 24...

The UMQVC, with the support of the Pôle of Oncology , the IRFC, Oncolie, and the French National Platefrom Quality of...

The following projects have involved members of our team and will be presented at the 24th annual conference of the...

The UMQVC, the oncology pole, IRFC and Oncolie are organizing a scientific day devoted to the QoL of cancer patients, on...

We would like to share with you our vision of Franck and the experience we have had by working alongside him with two...

We have the sadness to inform you of the brutal death of Prof. Franck Bonnetain on Saturday May 20, 2017.All our...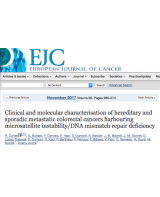 BackgroundPatients treated with chemotherapy for microsatellite unstable (MSI) and/or mismatch repair deficient (dMMR)...
Posted by : Dr. Dewi VERNEREY
Journal name : Eur J Cancer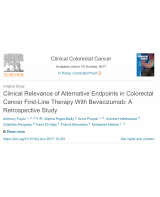 AbstractBackgroundWe studied the relationship between intermediate criteria and overall survival (OS) in metastatic...
Posted by : Dr. Sophie PAGET-BAILLY, Pr. Franck BONNETAIN
Journal name : Clinical Colorectal Cancer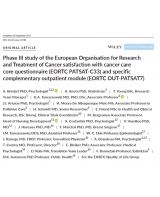 Advances in cancer care delivery require revision and further development of questionnaires assessing patients'...
Posted by : Dr. Amélie ANOTA, Pr. Franck BONNETAIN
Journal name : European Journal of Cancer Care
Team members
Amélie ANOTA



Statistician UMQVC



University Hospital of Besançon

aanota@chu-besancon.fr

Researchgate profile

Related Files :
CV_ANOTA.pdf

Franck BONNETAIN



Epidemiologist / Statistician, PhD / Professor, Head of UMQVC



University Hospital of Besançon

franck.bonnetain@univ-fcomte.fr

Researchgate profile

Emilie CHARTON



Statistician



University hospital of Besançon

echarton@chu-besancon.fr

Morgane CHOTARD



Clinical Research Assistant - UMQVC



University Hospital of Besançon

mchotard@chu-besancon.fr

Ikram ES-SAAD



Clinical Research Assistant - Clinical Research Engineer at UMQVC



University Hospital of Besançon

iessaad@chu-besancon.fr

Frederic FITENI



Medical oncologist, MD – Department of Medical Oncology, University Hospital of Besançon PhD student



UMQVC, University Hospital of Besançon

fredericfiteni@gmail.com

Audrey FOUBERT



Data manager - Clinical Research Engineer at UMQVC



University Hospital of Besançon

afoubert@chu-besancon.fr

Joëlle FRITZSCH



Clinical research asociate



University hospital of Besançon

jfritzsch@chu-besancon.fr

Julie HENRIQUES



Statistician



Clinical Research Engineer at UMQVC

jhenriques@chu-besancon.fr

Researchgate profile

Aurelia MEURISSE



Data-manager - UMQVC



University Hospital of Besançon

ahusse@chu-besancon.fr

Researchgate profile

Guillaume MOUILLET



Medical Doctor, Medical Oncology, IRFC-FC, University Hospital of Besançon - Epidemiologist at UMQVC



University Hospital of Besançon

gmouillet@chu-besancon.fr

Ahmad OUSMEN



PhD student at UMQVC



University Hospital of Besançon

aousmen@chu-besancon.fr

Sophie PAGET-BAILLY



Epidemiologist, PhD - Clinical Research Engineer at UMQVC



University Hospital of Besançon

spaget@chu-besancon.fr

Researchgate profile

Related Files :
CV english S Paget-Bailly.pdf
PhD S Paget-Bailly.pdf

Brice PAQUETTE

Astrid POZET



Epidemiologist - UMQVC



University Hospital of Besançon

apozet@chu-besancon.fr

Researchgate profile

Dewi VERNEREY



Epidemiologist / Statistician



Clinical Research Engineer at UMQVC - University Hospital of Besançon

dvernerey@chu-besancon.fr

Researchgate profile

Related Files :
CV_D_Vernerey_17_01_2018.pdf
PhD_D_Vernerey.pdf